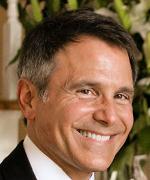 Lee Colpi was born and raised in Saint Louis, Missouri, and has since lived in the New England area and now in Chicago, Illinois. He spent most of his adult life as a husband and father of six, working in medical communication for various agencies as well as his own. Lee currently lives with his wife, Anne, in Northfield, Illinois.
Throughout his life, Lee has enjoyed painting. Although he has no formal art training, whether as a hobby, for a charity, commissioned works, or art for general sale, Lee has always been familiar with the feel of a paintbrush in his hand and comforted by time spent in his studio.
Indeed, it is through seeing other's enjoyment of his art that Lee derives much of his own pleasure from his created work. Certainly, the act of painting itself, the thrill of creating something beautiful, brings its own share of happiness and calm serenity. But, just as important for Lee, is that his work brings joy to others.
The works of Lee Colpi capture randomness and spontaneity of nature, architecture, and the beauty of good design, regardless of whether the painting is a landscape, still life or portrait. The artist is offering the viewer a feeling of the way things must have been at a point in time when peacefulness and harmony reigned before a fast-paced world took complete control of us all.